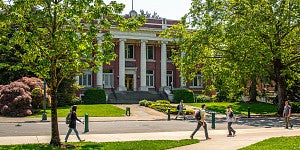 Presidential Search
The search for the 19th president of the University of Oregon
Appointing a president is one of the most important responsibilities of the Board of Trustees. The next UO president will build upon the university's academic, research, student success, and diversity initiatives. They will be responsible for leading the UO into the future and taking the university to even greater heights.
Presidential Profile
During its Dec. 6 meeting, the UO Board of Trustees received and unanimously approved the presidential profile. The profile provides background on the university and includes the president's position summary.
Recommendations for Prospective Candidates
Recommendations for prospective candidates can be submitted to the search committee using the survey linked below.
Presidential Search Committee
To help facilitate the search, the board has put together a broad and inclusive Presidential Search Committee, chaired by Board Trustee Connie Seeley and vice-chaired by Board Trustee Renée Evans Jackman.