The secretary of the university supports the Board of Trustees of the University of Oregon. The Office of the Secretary manages the work of the board, providing advice on board issues to the university president and executive administration, and serves as the liaison between the board and the larger UO community.
The secretary is responsible for maintaining records of the board, ensuring compliance with applicable laws regarding public records, and, in consultation with general counsel, the secretary ensures that board actions are in compliance with legal requirements. The university secretary is also responsible for maintaining custody of policies and standards adopted by the Board of Trustees, committees of the board, and the university president.
Angela Wilhelms
University Secretary
Angela Wilhelms became the first secretary of the University of Oregon in July 2014. Wilhelms brings a background in public affairs, public relations, finance, strategic planning, and policy development to the role of secretary. She received her undergraduate degree in finance from Santa Clara University and her MBA and juris doctorate from Willamette University.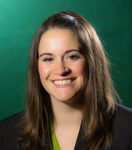 Amanda Hatch
Assistant Board Secretary
Amanda Hatch is the assistant board secretary for the Board of Trustees. Hatch graduated from the University of Oregon in 2006 with a degree in political science and a minor in business administration. She brings intricate knowledge in the governance transition and creation of the Board of Trustees of the University of Oregon from her previous role in the general counsel's office.